:::::
During this year's RFL clothing fair, I will donate ALL proceeds of my "Black Rose" avatar set to cancer research.The clothing fair this year is in pirate theme, hence I created a female (sorry males) pirate avatar. She is called The Black Rose, because she is both beautiful and deadly, and is never seen without a black rose on her hat. Young daughter of a pirate leader, she fears nothing, and fights with a vengeance! She is complete, from top to bottom, including shape, eyes, skins (4!), jewelry, hat/hair, (unscripted) sword and shoes, and her clothing items are in different combinations and layers. All clothing items are copy only, all prim and sculpted items are modify and copy, except the shoes, which are copy only. The skins are a combination of the Natalie and Meredith skin lines, and in the "exotic" skintone from Natalie. As a pirate, her skin is darkened by the sun and life outdoors, on the sea.
The Relay For Life fundraiser itself is running till July 2009, and I will have other RFL items available after the fair, in my own store.
The Black Rose avatar set will be for regular sale (at a slightly higher price and without the bonus) in my store after the clothing fair. So get it at the fair if you can, to get it cheaper, AND support cancer research at the same time!
Until there is a cure!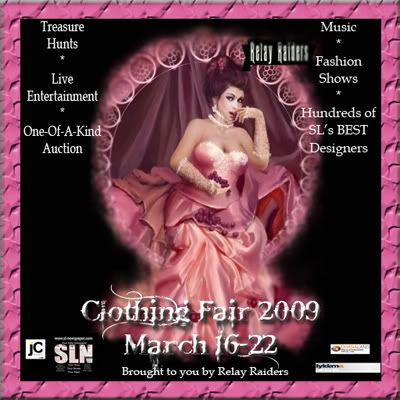 Nowadays, everyone has dealt, or will deal, with cancer. Maybe a family member, a friend, or even yourself, will suffer or has suffered from this terrifying and painful disease.
I am no exception. I have lost loved ones to cancer before, and sadly, a few weeks ago, my aunt was diagnosed with terminal cancer.
My aunt is an active, caring person, wife, mother of two and grandmother to very young grandchildren. She has devoted her life to caring for the sick and elderly, never having any major health problems herself.
Until, a few months ago, she went to the family doctor complaining about diarrhea. The doctor told her it was probably the stomach flu which was going around at the time. She went home, but after 4 weeks, it still wasn't over. She was forwarded to the hospital for some tests. It was no stomach flu. Cancer had started in her bowel, and had already spread to other organs, especially her liver, which was completely encased in cancer cells. No treatment or surgery could help her now, and she was advised to go home, and spend the last weeks or months of her life with her family.
Her being the healthy, active woman we all know her as, it was an immense shock to my entire family.
She is having a hard time accepting her fate at this point, and is in a state of hopelessness, and her husband and children also.
I find it too hard to accept myself, and I think about her every day. She still has so much to give, so much to live for.
I pray for her that she will be able to come to terms with knowing her life will be cut short, accept that God wishes her to join Him sooner than expected, make the best of the time she has left, and reassure her family that she will never be far away.
Nothing I donate to the Cancer Society will be able to help my aunt now, but I know as long as we all keep supporting research, we may at least be able to ensure that her grandchildren, and all children in the world, will not have to suffer the same.
And remember, even a little bit helps, as long as we all pitch in.
I am currently working on a special gown, which I will name after her, in honor of her, and also donate all proceeds of it to cancer research. It will most likely be finished after the clothing fair.