:::::
I made a succubus skin for the We♥Roleplay monthly event and thought 'hey, it would be cool to have a whole look around that'. So I put together an outfit and multiple matching accessories to go with the skin and here she is!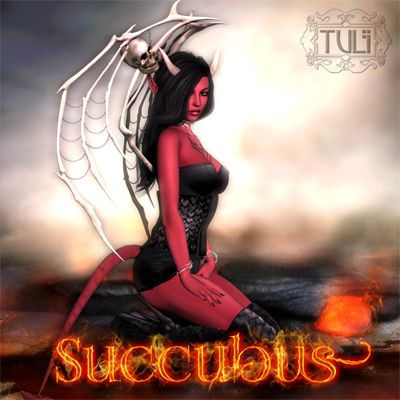 Included in the Succubus set are skins, body skin appliers (Belleza, Maitreya and Slink), outfit (including OMEGA applier), OMEGA head skin applier, boots, eyes, horns, wings, choker, bracelets, tail, eyelashes and shapes. Hair is not included, which is from Magika in above image, and of course the mesh body and mesh head, which are from SLINK and LOGO respectively. The head skin applier is OMEGA, and also looks great on SLINK mesh heads!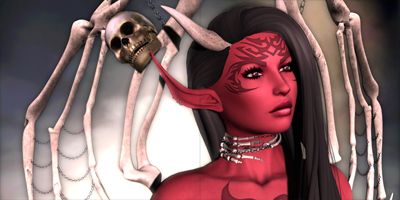 Included skins are with and without head and/or chest tattoo. The hair in this pic is by Elikatira.
The beautiful new hair in this image and the next one is from Amacci by Carina Larsen, who is back with a vengeance!
If you don't own a LOGO or SLINK mesh head, the default avatar skin is also included, with eyes and lashes.
All images were shot in different environment settings, with and without shaders, so please get the free demos to try everything in your own preferred settings.
You can choose one of two value packs, one with everything included, or one with only skin items.
The outfit, boots, wings, horns and choker/bracelets are available separately as well.
Succubus is only available at We♥Roleplay right now, with a special discount of 30%.