:::::
It has been a while, but the remodeled sim is finally open!
I think the sim turned out quite nice and there's loads to explore next to shopping.
If you are interested, there is a background story and teleports to nice spots in Journey on the wall next to the landing point to my main store. The shopping area is above the SL default flight height limit, so if you do not have a flight assist HUD, you can grab a free flight feather (which will allow you to fly around and explore at this height without falling down) from this wall also.
Also on the sim are Elymode fashion by Elysium Eilde, La Forgia jewelry by Danielle Astonia and Baustein furniture and prefabs by Mainit Hellman, please check out these talented people if you don't know them already, you won't regret it!
Elymode has a special clothing release for the occasion, only available in Journey!
The re-opening of Journey also meant the release of the new Eva skin line, and some brand new fantasy style dresses. (sample pic below)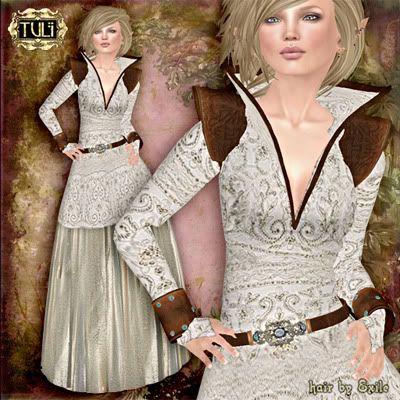 Eva is available in 7 tones, with 10 makeups each. Each makeup includes 3 eyebrow colors and 2 cleavage options. Fatpacks have the usual 50% discount.
Demos are free, so please try before you buy!
Older skin series have been discounted, check on the first floor of the skin building for those =)
Teleport to the sim!

(SLurl)
All other clothing I had in my previous (temporary) store location is still on sale and will be retired completely after the weekend, so if there was something you wanted, come grab it now!
Teleport to sale area

(SLurl)