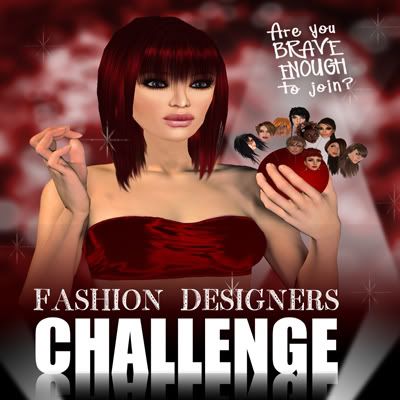 :::::
You probably have seen or heard something about the "Fashion Designer's Challenge".
I was honored to be invited to participate, and I salute
Samsara Nishi
for making her idea a reality and for her amazing patience with all of us in the Challenge. She manages to stay on top of everything and everyone, making sure we are reminded of dates and things to do. I don't think anybody could have done it any better.
I have joined the skin department in this challenge and have made something special with the new Faith skins.
Here's an excerpt from the press release, which you can read in full at the
FDC blog
, along with news, dates and some previews.
"For a long time I've wished to explore more deeply the collaboration aspect of SL, and I was also so curious about how it would be to organize such a thing... Finally I found a funny way to do it: usually fashion designers, including me, work alone, all by themselves... well... what if they could influence each other to create? So I decided to invite other fashion designers to join me to be challenging each other to explore our creative minds practicing our design abilities on the fly!" says Samsara Nishi.
FDC is a special & unique fashion event involving 35 well known fashion designers connected under a strong collaboration mode.
Everyone who joined this team were brave enough to accept the challenge to join the event as fashion designer without knowing what are the style of outfit they would have to create... They are challenging each other to create maybe something different from their usual...
The brave fashion designers are (in alphabetic order):
Aleri Darkes, Alexandar Vargas, Amutey Decuir, Annah Whitfield, Anubis Hartunian, Candy Cerveau, Clio Cardiff, Danielle Harrop, Digit Darkes, Eolande Elvehjem, Felicity Overlord, Ina Centaur, Indyra Seigo, Ivey Deschanel, Jamie Holmer, Kesseret Steeplechase, Leah McCullough, Mew Denimore, Mouse Mimistrobell, Nardya Rousselot, Neferia Abel, Nyte Vargas, Pushbutton Skolnick, Samsara Nishi, SavannahAnn McMillan, Sevenstar Amat, Sheltered Heart, Shir Dryke, Sioxie Legend, Sofi Sullivan, SySy Chapman, Tatianna Faulkes, Tigerlily Koi, Tuli Asturias and Wiccan Sojourner.
Each one of the fashion designers have 3 main individual assignments during the Fashion Designers Challenge:
1. To define a challenge to send to another fashion designer
2. To create an outfit based on the challenge he/she received from another fashion designer
3. To blog about the outfit someone else created
That means:
"Fashion-Designer-A" defines a challenge that "Fashion-Designer-B" will create and "Fashion-Designer-C" will blog about.
And there are also team challenges.
This is not a competition between fashion designers. This is a teamwork challenge. This is a collaboration effort. "